High-precision metal cutting

focus
What is your problem to be tacked?What kind of a part do you need?
Overview
We at Ohmura Seisakusho utilize the machining technology we have cultivated since 1930 to handle the contracted manufacturing of customized parts and mass production parts.With precision work on the special machines we have developed, we deliver products that satisfy your needs.
・ We handle small parts to large parts.
・ We can handle parts in complex shapes.
・ Materials include aluminum, titanium,stainless steel,iron,Inconel,HASTELLOY,magnesium, etc. ・ We accept production of various lots from 1 piece to high-volume production.
・ We accept prototype orders of customized parts.
・ Please consult us for any phase of production from design to assembly.
Characteristic technologies
■Customized parts (We can handle from prototypes to small-lot production.)
We create a part that has not been existed in the world in a tangible shape.
We first interview our clients to fully understand their needs and then start from design to production of parts that satisfy their needs.  
In our customization division, highly skilled engineers use general-purpose machines,NC lathes, and high-precision machines such as machining centers in an appropriate manner to realize valuable and brand-new creation.
■High-volume production
The characteristic of our high-volume production line is that specialized machines that we have developed and purchased general-purpose machines are combined to establish a production method that suits the quantity and the quality of production. Thus,we can achieve the most efficient production at optimal cost.We also handle hot forging and polishing,which allows us the fully integrated production from raw materials to finished parts.
・Field in Industry
Our products include engine parts for airplanes,space rockets and automobiles and diesel engine parts for automobiles, motorcycle pistons for racing, and injection pump parts for engines,and they are all based on our accumulated engineering technologies.The wide range of business fields where we handle production proves our technical strength.
Case Study in innovation
High-precision pistons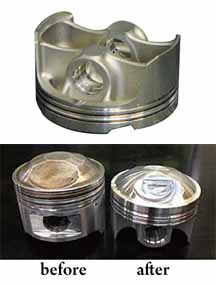 We have been producing pistons for Japanese honorable HONDA motorcycles for 35 years. From this experience,we also handle design and production of pistons for personal use.
・Pistons for racing
We produced a piston for 1972 Moto Guzzi V7 ridden by a Japanese GP rider,Ken Nemoto.
We minimized the flow of blow-by gas, reduced the weight, and increased compressibility by reducing friction to achieve significant performance compared to other pistons.He won Formula 750 and Formula Vintage races at Daytona in October,2012.
・Piston for restoration (for returning to the original condition by completely dismounting the parts)
・ Pistons for airplanes
Small jet engines, optical experiment devices, combustion experiment devices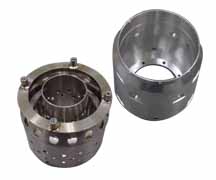 For design and part production of a small jet engine,we performed the entire process of production including software development,design, manufacturing, and assembly,and also handled testing and analyses.
Nozzles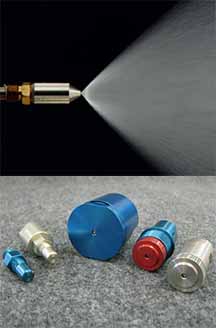 We can handle any requested specifications of your company, including types of material, size, flow rate, pressure, particle size, etc. Our nozzles can be mounted on devices used in various industries such as automobile, aerospace, textile, food, consumer equipment, agriculture, and horticulture.
・Nozzle for jet engine
・Nozzle for gas turbine
・JO nozzle (ultralow-pressure twin-fluid nozzle)
・We downsized the nozzle for low NOx gas turbine, which was jointly developed with JAXA, to produce the JO nozzle.
・The pump capacity becomes compact due to ultralow- pressure spray(20 kPA/ 0.2 atm).
・A small mount of spray is possible from 2cc/m.
・Fine spray from a particle size of 10 microns
・Spray at a large spray angle of 110℃
Parts for large mechanisms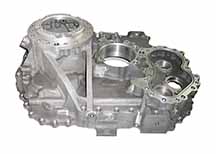 We can produce large parts up to Φ1,200 mm as we keep working diligently to improve the quality of our products by adopting one of the largest general-purpose lathe in Japan whose diameter exceeds 1 m, working machines unique to our company, and a temperature-controlled room for high-precision work.
Equipments

Company information
| | |
| --- | --- |
| COMPANY NAME | Ohmura Seisakusho Co., Ltd. |
| ADDRESS | 1606 Oaza Shimogarako,Higashi Matsuyama,Saitama,355-0076,Japan |
| TEL | +81 493 23 1288 |
| FAX | +81 493 24 2767 |
| URL | http://www.ohmurasei.co.jp/index_e.html |