Non-ferrous metal die-casting

focus
We want to cast a new light on the next generation.
Overview
Our company was founded in 1956.Our head factory is located in Gunma Prefecture where the Japanese machinery industry has been advanced.Because we originally started in die business,we are strongly confident in elaboration of dies.We excel at producing high-level complex products that cannot be produced at other companies.We adopt fully integrated production that covers design,product design,die design,casting,metalworking,surface treatment,and finished product assembling.We have joint companies in Vietnam and Thailand.We handle any volumes of orders:small-lot production of various types is handled in Japan while high-volume casting is handled overseas.
Characteristic technologies
・Material
We are specialized in non-ferrous metal die-casting.We use various types of aluminum alloy,mainly ADC 12,and also use various types of zinc alloy,mainly ZDC 2,for die-casting.Our zinc die-cast products,which are worked and surface-treated,are used globally,and the examples include handlebars of switchboards,handlebars of specially designed vehicles for various purposes,and handlebars of switchboards for bullet trains.Our aluminum die-cast products, which are produced by using three-plate molds,vacuum equipment,and oblique extrusion technique,include pressure-proof parts,parts for hydraulic circuits,and various types of automobile part,and we deliver them to Japanese major manufacturers.We also challenge handling new materials,such as adding silicon carbide to currently used raw materials.We continue our study in die-casting to produce die-cast products of high strength,excellent heat radiation,and further reduced thermal expansivity.
・Field in Industry
■Various types of automobile part(compressors, CVT controllers,power-steering motors, parking brakes,lamps,heat sinks,etc.)
■Parts of switchboards and specially designed vehicles(various handlebars, transport devices, railway cars,airplanes,etc.)
Case Study in innovation
Resolution of undercut, less working processes made possible by our own die technology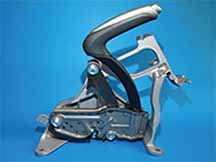 The lever-mounting portion is angled to correspond with movement of an arm at the time of pulling the lever,and the lever bracket mounting hole and the central axis of rotation are also angled with respect to a draft direction of a die.These are usually worked later on;however,because we use our own die technology for die casting,the number of working processes is reduced,which further contributes to cost reduction.
Vacuum equipment and complex parts produced by using the precision die technology and the casting technology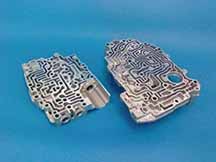 We produce CVT control valves with a complex hydraulic circuit by adopting die, design, and casting know-hows that we have cultivated for long time in addition to the vacuum casting technology. At the design phase, we simulate runners to create the optimal design, which allows significant reduction in the work period from production of dies and prototype casting to high-volume production.
Fully integrated production from metalworking and surface treatment to finished product assembling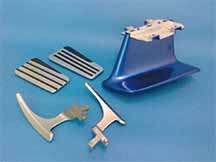 In addition to automobile inner parts, we produce aesthetically-pleasing functional parts for automobile exteriors, automobile interiors, switchboards, specially designed vehicles, railway cars, airplanes, etc.
Equipments

Company information
| | |
| --- | --- |
| COMPANY NAME | Akiba Die Casting Co.,Ltd. |
| ADDRESS | 580,Oyagimachi,Takasaki-shi,Gumma,370-0072,Japan |
| TEL | +81 27 361 4499 |
| FAX | +81 27 361 0272 |
| URL | http://www.akidc.co.jp/en/ |