Prototype (Precision press)

focus
Specialized service to manufacture prototypes of precision-pressed small parts to assist developers of electronics or medical equipment.
Overview
The production lead times until the release of products have been significantly shortened these days. In such circumstances, development and design engineers of precision equipment such as electronics and medical equipment would gain advantages over competitors in the development race if they can obtain prototypes of component parts that have the same shape, same precision, same functions as the parts used in the actual production in the fastest manner. We can manufacture prototypes of precision-pressed parts, which are made from thin sheet metals and as precise as parts used in the actual mass production. We accept any quantity of prototype orders from one piece to ten thousands pieces and promise quick delivery in either case. Besides, because we do not use expensive progressive molds for manufacturing, we provide superior cost performance.
Characteristic technologies
In order to promptly manufacture prototypes or precision-pressed parts in a small lot order, we own various types of general-purpose molds and jigs that are unique to our company. By using those various molds and by arranging those molds, we shape complex details step by step. Thus, there is no need of progressive dies for mass productions that could be highly functional yet very expensive. Needless to say, our machining accuracy is superior. Using such molds and processes, we can flexibly manufacture precision prototypes in the fastest manner and supply parts to which design changes have been made. Further, we promise simultaneous quick delivery of various parts in small lot orders. In addition, specially shaped parts, which cannot be manufactured only by machines, are each manufactured by skilled workers by hand. Our technology is a great benefit for the developers who want to create a prototype quickly for their testing and evaluation and for the precision part manufacturers who want to produce only small numbers.
[Machining processes]
Primary machining [Blank machining]
Parts are machined by the most suitable method selected from wire-EDM, laser beam machining, etching, and press working.
Secondary machining [Bending, drawing] We manufacture dies for bending and drawing (including doweling, beading, burring, and ribbing) that are unique to KURODASEIKI Co., Ltd. and use a hand press, press brake, servo press, and general-purpose press for press working. We own overwhelming quantities of general-purpose dies which count more than 1,000 types. Thus, while we can handle machining into various shapes, we promise the cost reduction and shortening of the lead time.
[Materials] : Stainless steel, aluminum, brass, various steel sheets, various copper sheets
[Optimum quantity] : One to tens of thousands
・Field in Industry
Electronics, medical equipment, automobile parts, aerospace-related equipment, optical equipment
Case Study in innovation
Socket cover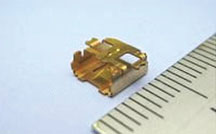 | | |
| --- | --- |
| Material | C5210 t=0.25 |
| Amount of Production | 80 |
After the outline is formed by wire-EDM, the part is bent by hand for each process. It tends to be difficult to achieve requested accuracy for parts in such a shape, but this is our specialty.
*Special die fabricated.
Shell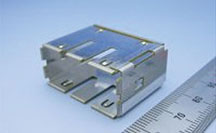 | | |
| --- | --- |
| Material | C2600 t = 0.4 |
| Amount of Production | 200 |
A plated blank is shaped by wire-EDM, followed by bending. In this picture, the corners are bent in a square shape, but a dimensional accuracy of ±0.02 can be achieved.
*Special die fabricated.
Lid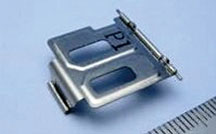 | | |
| --- | --- |
| Material | SUS301 t = 0.2 |
| Amount of Production | 100 |
The noted point of this part is curling in a small diameter. It has an inner diameter of  0.5 mm, but the accuracy is ±0.01 mm. The adjunctive shaft is caulked after curling.
*Special die fabricated.
Terminal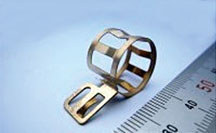 | | |
| --- | --- |
| Material | C5210 t = 0.2 |
| Amount of Production | 52 |
The ladder portion is formed by drawing, but there is absolutely no strain overall. There is no gap in the double-ply portion.
*Special die fabricated.
Equipments