Precision cutting

focus
Ask Costem for impeller/propeller prototypes and precision cutting of various mechanism parts!
Overview
At Costem, we use a variety of machining technologies that are promised by the latest equipment and our broad experiences to handle various requests from customers who needs "difficult" machining, who are "in hurry", who wants "only one part", etc. with our machining services (by the machining center and various machine tools including the NC lathe).
Characteristic technologies
Using our expertise and various machine tools such as the 5-axis controlled machining center and milling machine, NC lathe, grinder, and wire-electrical discharge machine, we promptly manufacture high-precision parts and jigs that are tailored to product specifications requested by customers. In order to deliver the products that fit in specifications requested by customers, we also cover other related processing. We thoroughly perform post-machining processing such as heat treating, welding, surface finishing, and sheet metal processing.
・Field in Industry
Semiconductor manufacturing equipment / power-generating facilities / automobile parts / vacuum equipment / aerospace / machine tools / medical equipment / printing equipment / construction equipment / sound equipment / transport equipment / vessel and ocean development, etc.
Case Study in innovation
Propeller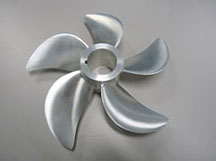 | | |
| --- | --- |
| Material | A5056 |
| whole surface | ±0.03 |
Thin-walled and deep-carved cutting with a 5-axis control machine tool.
This propeller must be machined with an optimized cutter path to reduce the deterioration of surface roughness or dimensional accuracy due to chatter vibration.
Impeller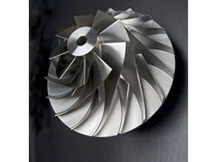 | | |
| --- | --- |
| Material | SUS630 |
| whole surface | ±0.03 |
As with the propeller, this is also a cutting with a 5-axis control machine tool. Not only aluminum but also A5056 and other materials can be used for machining similar shapes.
Cover(for Defense Industries)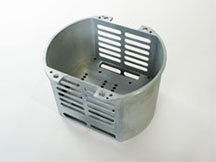 | | |
| --- | --- |
| Material | A5052 |
| Thickness | 1mm |
Machining from aluminum block.
This special purpose cover does not have a welded structure, requiring cutting that can produce a lighter product with higher strength.
Plunger block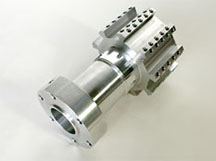 A combined lathe allows for single-process machining, bringing advantages in the accuracy and machining time.
Complex shape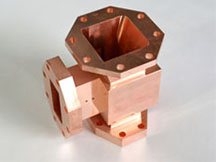 Machining from aluminum block.
After machining from six directions, a wire-electrical discharge machine is used for where the cutting edge cannot reach or where the corner radius cannot be applied.
The trial product of the case of a mobile phone
| | |
| --- | --- |
| Material | TB340(Pure Titanium) |
All machined with cutting tools.
The workpiece is machined with its outer frame left like runners for plastic models first and cut off and finished at the last step because it has a free-curve shape even without a holding portion.
Heat sink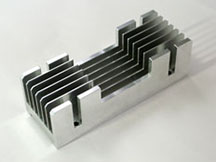 | | |
| --- | --- |
| Material | A5052 |
| Thickness | 1mm |
| Height | 25mm |
All machined with cutting tools.
Machining methods for heat sinks are chosen from cutting or wire-cutting depending on the shape.
Cam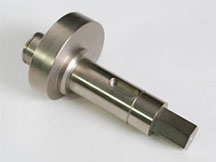 | | |
| --- | --- |
| Material | Stainless Steel |
| Cam portion | ±0.01mm |
| Height | 25mm |
We have a great deal of experience and achievement especially in producing cams so that this kind of machining is one of our specialties.
Piezo stage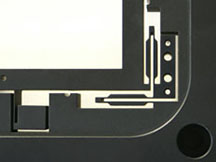 | | |
| --- | --- |
| Material | A7075 + Black Alumite |
Thin-walled wire-cutting.
The thickness of the most thinnest part is 0.3±0.02mm, resulting in deformation after machining even when an annealed material is used. However, its dimension accuracy is kept as instructed.
Thin pipe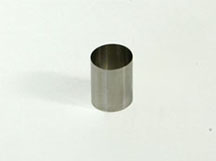 | | |
| --- | --- |
| Material | SUS303 |
| Thickness | 0.1mm |
This thin-walled pipe is machined from a round bar. The machining method is our company secret.
Equipments