Super engineering plastics molding

focus
The expert of super engineering plastics ultra-precision injection molding
Overview
Nichiei employs an integrated system which handles the production of prototypes of highly functional precision parts which uses engineering plastics and super-engineering plastics (e.g. PEEK, PAI, and PI) to the mass production of molds and precision injection molds. We are able to achieve weight reduction and cost reduction in addition to higher functionality, such as slidability, and heat and wear resistance.
Characteristic technologies
Ultra-precision injection molding
In ultra-precision super-engineering plastic molds, there is a fine relationship between the refined mold manufacturing technology and the exceptional molding technology. at Nichiei, we are able to fuse these two processing technologies; thereby enabling the stable mass production of highly functional and ultra-precise parts. High performance is achieved by subsitution of metallic parts.
[Bearing Molds]
Achieved mass production with outer diameter:φ20mm, inner diameter: φ5mm, material: POM, and coaxility: 5μm.
[Gear Molds]
Achieved stable mass production with helical gears of JIS-1 and JGMA-0 grades.
[Molds of Highly Functional Parts]
Molds of ultra heat-resistant and ultra wear-resistant parts.
・Material
Super-engineering plastics (e.g. PI, PEEK, PES, PPS, and PA)
General-purpose engineering plastics (POM, PET, PBT, PC, LCP, and PA)
Flexibility in different types and quantity such as prototype molds, small lots, and mass production
・Field in Industry
Medical equipment,Automotive equipment,Optical equipment,Electronic office equipment,Electronics equipment,Semiconductor manufacturing equipment,Precision machinely and so on
Mold design and manufacture
We are engaged in the design and manufacture of molds with the perception that "the ultimate cost contributor is the stable injection molding of ultra-precision parts". Molds on a micron level which is built with high functionality and long life in mind, have a high reputation of being the origin of ultra-precision molded parts that are used in a variety of cutting-edge fields. "Mold Design Environment" We listen to the requirements of our customers, such as the precision and materials required of their molds, and offer the optimal structural design for their molds. "Mold Manufacturing Environment" In order to realize ultra-high precision machining of a sub-micron level, we have a comprehensive line-up of high-end machining tools, such as jig
Case Study in innovation
Plastic shaft bearing with a deflection tolerance for the internal and external diameter of 0.005mm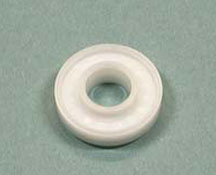 | | |
| --- | --- |
| Usage | Bearing shaft for OA equipment |
| Material | Acetal(POM) |
| Die for | 4 cavity |
| Reason of development | New application |
A customer had used a machining process in the early stage of development, and later used a wet polishing process. However, they were struggling to meet the specifications, even during this development stage. Nichiei received inquiries from them and recommended using an injection molding process. The part was made from acetal (POM), a crystalline resin that has a high post-molded shrinkage rate, something that was unacceptable to the customer. To solve this problem, we worked with the customer to produce a machine that could measure molding tolerance precisely, and observed the variation over time 1 month, 3 month, 6 month and 1 year after molding. After confirming that there was no change in dimension, mass production was started. Based upon the volumes required, Nichiei built a 4-cavity tool with a tolerance of 2u-3u, supporting the mass production of 300,000 bearing shafts per month.
Thick-walled bearing shaft: Coaxiality tolerance of 0.01mm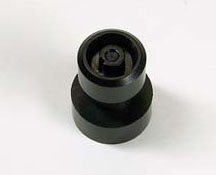 | | |
| --- | --- |
| Usage | Bearing shaft for OA equipment |
| Material | Acetal(POM) |
| Die for | 1 cavity |
| Reason of development | Replacement of a machined part to improve quility |
A customer had used a machining process to meet the specifications in the early stage of development. The process was time-consuming, costly and yields were low due to quality issues. Nichiei was contacted by the customer and recommended injection molding. A major concern for this part was the fact that it was thick-walled, which often leads to a surface indentation, or "sink mark", due to material shrinkage during cooling. In fact, molding this part with a coaxial tolerance of 0.01mm was extremely challenging, but Nichiei was able to solve all the problems, producing a blemish-free part which is now in full commercial production.
Plastic bearing shaft: Circularity of 0.002mm; External diameter tolerance range of 0.008mm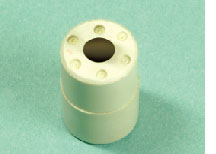 | | |
| --- | --- |
| Usage | Bearing shaft for OA equipment |
| Material | Liquid Crystal polymer(LCP) |
| Die for | 4 cavity |
| Reason of development | New development (trial production) |
A customer was struggling to achieve tight tolerances in a molded part requiring circularity of 0.002mm and an external diameter tolerance of 0.008mm. Nichiei offered a proprietary molding methodology that is now meeting both the performance and specification requirements, resulting in a very satisfied customer.
Insert gear of JGMA Grade 0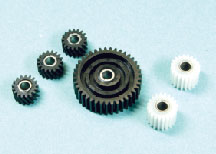 | | |
| --- | --- |
| Usage | Gear for OA equipment |
| Material | POM,elastomer |
| Die | 4 cavity |
| Reason of development | Next generation design to eliminate noise during operation |
A customer realized they needed a plastic gear to reduce the noise in their Office Automation equipment. Since plastic alone would not meet the high temperature requirements of the part, it was suggested that they include a metal component within the plastic gear. However, a metal/plastic insert molded gear typically does not maintain the tight co-axial tolerance required for a JGMA Grade 0 gear. The customer came to Nichiei who then developed a new (patented) molding technology to produce an insert molded gear that maintains the necessary accuracy and dimensional stability, while meeting the fitness-for-use requirements of the part.
Equipments