Manufacturing of injection molds and injection molding

focus
At Muroshima, we are engaged in every process of injection molding from mold manufacturing to forming of a product, and accept any order from small lot. A material used for a product can range from a general-purpose material to super engineering plastics.
Overview
A mold is machined at high speed, and micro machining is performed with R0.05 of a ball end mill. The unique mold mechanism specially designed for small-lot production is adopted to increase productivity of injection molding while minimizing man-hours required for mold manufacturing. Any material can be used for injection molding, and our products range from mechanism parts to design parts.
Characteristic technologies
A design with realistic texture can be produced by micromachining, more specifically by leather texturing with direct carving. With optically high-intensity molding technology, we can produce solid-color parts in intrinsic colors of resins while design parts in metallic colors resemble parts with metallic coating and in higher color intensity than conventional molded parts. Thus, we can help you produce a brand new design. In prism thick molding, ultra thick molding that is difficult by conventional injection molding is possible, and a transparent resin such as propylene carbonate (PC) can be worked by prism molding that minimizes internal distortion as possible.
・Field in Industry
Automobile exterior and interior parts, home appliance parts, medical equipment parts, industrial machine parts, aerospace parts, daily equipment parts
Case Study in innovation
The size of molding machines can range from 50t to 550t.
Materials to be used: PP, PE, TPE, PS, ABS, AES, ASA, PC, PA, POM, PMMA, PVC, PPE, PBT, PEEK, PES.
Minimum lot per order: 10 pieces/lot
Prism ultra thick molding that minimizes internal distortion as possible.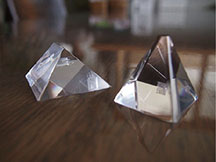 Leather texturing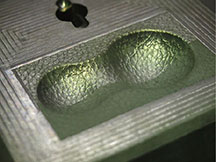 Optically high-intensity molding without coating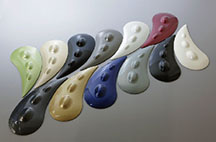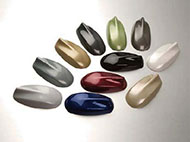 Equipments