Prototypes(pressed plate)

focus
Specialized service for a quick delivery of prototypes of pressed parts involving deep drawing,free-form surface shapes,etc.
Overview
We make prototypes and small lots of difficult press parts involving deep drawing,free-form surface shapes,etc.,which are needed in various industries,especially in the automotive industry.We distinguish ourselves by offering quantities from one to a hundred with fine precision on the level of mass production.On top of that,we deliver quickly.Our cost performance is also outstanding,since we do not use expensive dies used for mass production.As lead times for product market entry shorten drastically,development and design engineers surely need prototypes of components needed for product development sooner,in the same form and precision and with the same function as the real components.We at Kagawa Seisakusho pride ourselves on being able to give development engineers what they need.
Characteristic technologies
Die technology
We manufacture ideal provisional dies for work pieces that meet customer's needs, centering on FC (cast iron) and ZAS (zinc alloy for stamping). ZAS is a particularly well-suited material for prototype and small lot production. It shortens machining time of provisional dies and also lowers cost. We even have our own casting equipment for ZAS, so we can cast an amount of die material ideal for the work size without waste. Using ZAS-based die materials with 3D CAD/CAM and the high-level operational know-how of our high-speed machining center, we manufacture highly precise provisional dies speedily. We use the provisional dies to do the essential work of form recreation, and, after press molding, we use 3D lasers to handle boring, trimming, etc. Thus, our unique die design, which limits the role of the provisional dies, allows for dramatic cuts in unnecessary cost and time. We have rich experience and know-how in provisional die manufacturing technology, turning our customers' designs into prototypes inspiring great satisfaction.
Press technology
We possess a variety of hydraulic presses from 35 to 600 t, with which we prototype pressed parts needed for development in various ranges of industries. For automotive parts, for instance, we can handle sizes from brackets to BIW structural materials such as pillars and frames. We can also manufacture parts for limited production and small-lot parts such as restoration parts, and deliver them quickly. We have reverse provisional die manufacturing technology, using ZAS materials to manufacture prototype and small-lot pressed parts quickly. This makes it possible to avoid making sophisticated but very costly transfer dies made for mass production. Our method not only flexibly handles urgent manufacturing of fine prototypes as well as part supply in the case of design changes, but also offers outstanding cost performance. And even high-mix, small-lot parts can be delivered quickly at the same time. Even demands for special shapes that cannot be achieved by machines alone can be met with generous application of our seasoned handcraft. For prototypes for development and design engineers who want rapid evaluation and verification, and for components for manufacturers who produce products limited to small numbers, our technology offers superior value.
For example, to prototype a palm-size bracket, our manufacturing usually takes 4 business days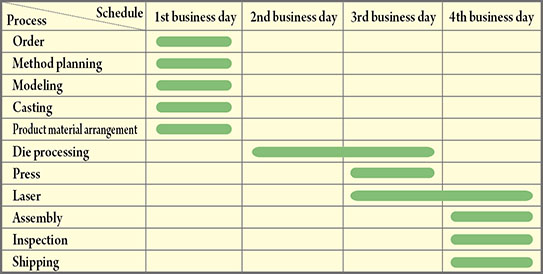 From a single prototype to limited-quantity products in the thousands and small-lot mass production in the hundreds per month. Larger quantities are subcontracted Automobiles, medical equipment, industrial machinery, construction machinery, interior decorating, exterior decorating, office furniture
Steel materials t0.5 – t6.0 (cold/hot/plating/high tensile strength/deep drawing), stainless steel t0.5 – t3.0(304/316/430), aluminum t0.8 – t2.0 (5052) *With restrictions Die materials: ZAS (zinc alloy for stamping), cast iron (FC/FCD), steel (SS/SC/SK/SKD)
Case Study in innovation
Hot-dip galvanized steel sheet,t1.2,400×350×130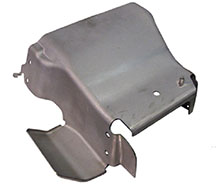 This is a part in small-lot mass production of 300 units per month. Its complex shape requires 7 pressing steps, making die cost prohibitive for normal mass production methods. Thus, we use small-lot methods. It requires meticulous care, as an external part for a truck, which cannot tolerate scratches or warping.
SPCE (cold-rolled deep drawing steel sheet), t3.2, ø170 × 250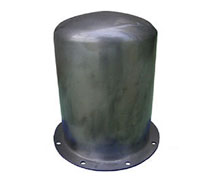 This is a prototype for a pressure container which uses thick sheet for deep drawing. It is difficult to form, as the cylinder and flange are of low bend radius. The application being a pressure container, it requires strength, so we take care in reducing the thickness. We completed pressing of this prototype in 4 steps.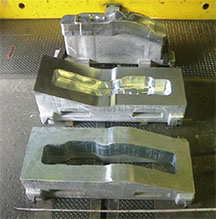 These are deep drawing dies for large parts over 1 m in size. Since they are for prototypes, ZAS (zinc alloy for stamping) is used for the material. The parts are cast in general form and then finished by being cut at the machining center. ZAS is softer than steel, allowing to be cut speedily. Press capacity is limited, but we can reuse dies as other dies by machining them in a simple process when they are scrapped after prototyping of other parts is complete.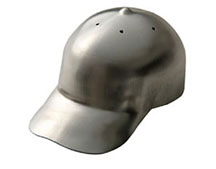 This is not a part.It is a realistic reproduction of a hat design made by press work.We are capable not only of manufacturing functional parts,but also of designs like this. Press methods show their effectiveness in some cases such as when a certain number is to be produced.
Company information
| | |
| --- | --- |
| COMPANY NAME | Kagawa Seisakusyo Co.,Ltd. |
| ADDRESS | Ayasekougyoudanchinai,8-12-5,Fukaya Kami,Ayase-shi,Kanagawa,252-1108,Japan |
| TEL | +81 467 76 4886 |
| FAX | +81 467 76 8313 |
| URL | http://www.kagawa-ss.co.jp/ |