Precision casting by a plaster mold

focus
Precision casting technology that achieves the same precise dimensions and fine finished surfaces as die-casting without the need of a metallic mold.
Overview
Product development requires prototype production of various precision metal parts that constitute a product. At Mold Model, we, as a specialized manufacturer, begin by envisioning future mass production by die-casting, use the same aluminum alloy material as that will be used in the actual mass production, and cast realistic parts without the need of expensive metallic molds. We also promise quick delivery of such parts. Manufacturing at Mold Model is not only suited for prototype production but also for preceding mass production and small-lot production. We have been receiving high evaluations from product development engineers in various industries.
Characteristic technologies
Our precision technology is established by taking the following processes: manufacture a master model by machining; after transcribing the master model to a silicon mold twice, manufacture a plaster mold for casting; and finally cast aluminum alloy, etc. to manufacture a part.
• Because we use the same material as that will be used in mass production by die-casting when we cast a part by the plaster mold, various functions as well as appearance of the part can be evaluated. Thus, you can avoid extra cost and time for the review.
• Freeform surfaces, deep grooves, thin-wall or hollow shapes, slight undercuts, and draft "zero" can be precisely casted. Also, the superior surface roughness is achieved even without the secondary machining.
• Because high quality parts are manufactured without the need of expensive metallic molds and delivered quickly, manufacturing at Mold Model can deliver high business performance in prototype production and small-lot production.
• Because, compared to a metallic mold, modifications can easily be made to a plaster mold, we offer great flexibility to design changes that can frequently occur at the stage of product development.
[Casting material]
• Aluminum alloy
Casting alloy: AC2B, AC2A, AC4A, AC4B, AC4C, AC7A, etc.
Die-casting alloy: ADC
• Magnesium alloy
• Zinc alloy
[Casting size] The maximum outer dimension is approximately 600 x 350 x 200 mm.
[Optimum quantity] About 5 to 100 pieces (depends on size and shape.)
・Field in Industry
Automobiles, precision instruments, industrial machines, electrical instruments, electronic instruments, optical instruments, medical instruments, etc.
Case Study in innovation
Heat sink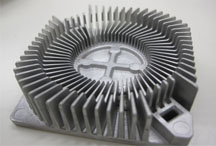 | | |
| --- | --- |
| Material | AC4C (aluminum alloy) |
| Size | 70 x 70 x 20mm |
Achieve thin-walled shapes and a narrow pitch. Plaster casting can be used as a substitute to deal with irregular orders even after a metallic mold has been disposed. This is a duplicate of a die-cast part whose production has been discontinued, manufactured by substituting a mold and a master model.
Valve body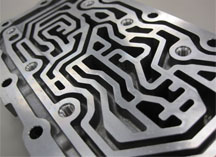 | | |
| --- | --- |
| Material | AC4C-T6 |
| Size | 250 x 150 x 50mm |
• Irregularly intricate oil passages
• Smooth casting surface
• Such a complicated unusual shape can be made by plaster casting.
Arm component of a machine tool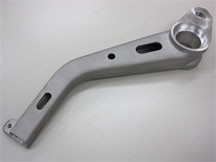 | | |
| --- | --- |
| Material | AC4C-T6 (aluminum alloy) |
| Size | 300 x 80 x 40mm |
• The entire part is hollow. (core molding)
• The internal wall is ribbed. (core molding)
• This is an example of integral-molded part (of aluminum) that is hollowed inside for the purpose of light weight and strength.
Motorcycle transmission part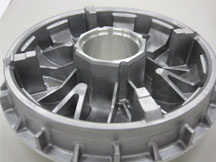 | | |
| --- | --- |
| Material | AC4C-T6(aluminum alloy) |
| Size | φ170 x 60mm |
Forming by plaster casting was requested not only because the favorable surface roughness was required for the cam surface but also because achieving the above was difficult by machining and was inefficient by sand casting. Thanks to plaster molding, cam surfaces can be created so smooth that they can be used without any treatment after casting.
Equipments